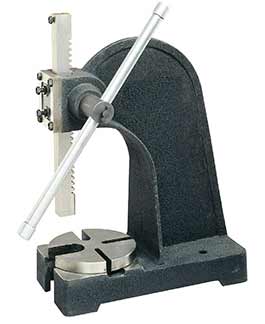 Mechanical 5 tons rotary Arbor Press
with sturdy cast body
Base plate with holes to mount on a workbench

Description:
Werkstückdurchmesser max.: 180 mm
Ausladung bis Spindelmitte: 216 mm
Abstand Tisch - Zahnstange max.: 460 mm
Schlitzbreiten Auflagetisch: 10, 15, 20, 25 mm
Stößeldurchmesser: 28 mm
Cast Body Height: 860 mm
Pressure Force: 5 kN
Width x Depth: 250 x 660 mm
Weight: 120 kg
Suitable for keyway broaches according to DIN 6885 up to size IV, for the production of keyways up to size 14 mm and for square needles as well as hexagonal needles up to 14 mm wrench size. - Further applications are the pressing in and out of bearings, bushes, spindles, pins etc.
| Art. Nr. | Ausladung | Arbeitshöhe | Presskraft | Aufnahme- | Abmessung | Gewicht |
| --- | --- | --- | --- | --- | --- | --- |
| | | | | bohrung | (LxBxH) | |
| R50000 | 216mm | 460mm | 5t | Ø12,7mm | 660x250x860mm | 120kg |