High pressure turret Nozzles

An optimal machining process is an essential prerequisite for an eco­nomical production. LOC-LINE FLEXI High-Pressure Turret Nozzles can help to ensure optimal chip breakage at coolant pressures of up to 70 bar and dissipate process heat and chips quickly and completely from the workpiece.
CD "COMPACT" Nozzle
View Product
XW "X-Wide" Nozzle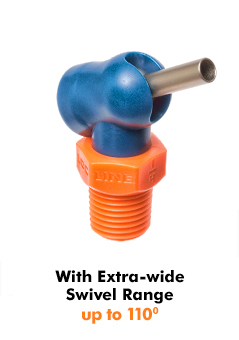 View Product
Two nozzle types are available: the particularly compact CD nozzle and the XW nozzle with an extra-wide swivel range of up to 110 °. Both types operate at up to 70 bar high pressure and have a 1/4 "or 1/2" NPT / BSPT pipe thread connection. They are suitable for all turning centers, multi-tasks and vertical lathes and can be connec­ted directly to the processing tool or to a separate pump unit for the supply of high-pressure coolant.
LOC-LINE FLEXI HPT Nozzles
The Advantages at a Glance
Working Pressure up to 70 bar!

Quick and Easily Adjustable




Absolutely position-stable!




Re-adjustment as with other nozzles is not required.

improved heat dissipation

Whether with low pressure or high pressure, with LOC-LINE FLEXI HD nozzles, the cooling can be decisively improved. The nozzles deliver coolant or air precisely, at the appropriate angle and in sufficient quantity to the cutting zone, even at high speeds.

improved Chip Breakage and Chip Dissipation


In combination with high-pressure cooling, a better control of the spans is achieved, in particular in processes in which the chips can not run unhindered or have the tendency to stick together.
High-Pressure Coolant
Turning and Milling
For increasing Quality-requirements
And Shorter
Prozess Times.
More and more manufacturers and suppliers in aerospace and other sectors are now using the advantages of high-pressure cooling, since this can make turning processes much more efficient. It allows:
höhere Schnitt- geschwindigkeiten,
längere Werkzeug-Standzeiten,
seltenere kostspielige Maschinenstopps,
mannlose Arbeitsprozesse,
bessere Wärmeverteilung,
effizientere Nutzunng von Kühlmittel,
die Vermeidung langer, unkontrollierbarer Späne
The precision and quality of the nozzle are of crucial importance:
LOC-LINE FLEXI HP Nozzles are easily and exactly adjustable and ensure that the coolant al­ways hits the cutting edge preci­se­ly, at the appropriate angle and in a sufficient quantity.
Most CNC machines today have coolant supplies with pressures of 70 bar or can be easily retro­fitted.

If you have any ques­­tions please do not hesitate to contact us! Our Pro­duct & Appli­cations' Consul­ting will be pleased to assist you.