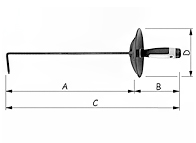 The HOOKY Chip Removal Hook has been in our program for many years now, because it is still outreaching everything on the market in terms of handling, safety and longevity. Its design is well thought-out and is guided not least by the employers' liability insurance regulations, to minimize the risk of injury.
IBT Thiermannn Chip Removal Hook, available in 300 mm and 500 mm nominal length, with tip protection cap.
CHIP REMOVAL HOOK 300 mm
Art. No. K20300
A = 290 mm, B = 140 mm, C = 430 mm, D = 130 mm
Schaft-Durchmesser 6 mm
Chip Removal Hook - 500 mm
Art. No. K20500
A = 390 mm, B = 110 mm, C = 500 mm, D = 140 mm
Shaft Diameter 6 mm

In order to remove short chips, small parts and workpieces safely and easily from the work area,  HOOKY can be supplemented with a Chip Shovel.

The mounting is simple, the seat firm and stable.
HOOKY Chip Shovel

Art. No. K20600
Width: 120 mm
Height:   65 mm
Content: 2 Pieces
HOOKY-Versal Set
Art. Nr. K20000
1 Chip Removal Hook 3-parted
screwable together to 300 or 500 mm nominal length. **
1 Chip Shovel, plugable

** Additional extensions of 200 mm each are optionally available at an extra charge (Art.Nr. K25091).