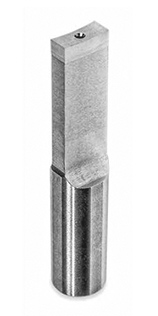 HASSAY SAVAGE
CNC
-Single Point Keyway Broaches
Broaching tool to execute keyway and squared profiles in one setup with other machining operations.

Benefits
Cut down on set-up time.
Complete the part on one machine.
No hydraulic press or pull required, no bushing guide required.
Only way to keyway a blind hole.
Long tool life. Can be easily sharpened many times for extended tool life.
For either CNC lathe or CNC vertical machining centers.
For keyway DIN 6885 and squared profiles.
Application
With the spindle locked, the broach can be brought inline with the pre-prepared bore diameter and chamfer lead
of the part to start broaching the keyway at a speed of 10 - 30 in/min and an in-feed of .003 -.005 depth per pass,
using a flood coolant for lubrication during the cut. The in-feeding cycle is repeated until the desired depth of the
keyway is achieved.
| Size | Tolerance | Max LOC | OAL | Shank Ø | Art. No. | |
| --- | --- | --- | --- | --- | --- | --- |
| 4 mm | 0 /+ 0,04 | 38 mm | 95,25 mm | 15,88 mm | R69004 | |
| 5 mm | 0 / +0,04 | 38 mm | 95,25 mm | 15,88 mm | R69005 | |
| 6 mm | 0 / +0,05 | 50 mm | 114,3 mm | 22,23 mm | R69106 | |
| 8 mm | 0 / +0,05 | 50 mm | 114,3 mm | 22,23 mm | R69108 | |
| 10 mm | 0 / +0,06 | 50 mm | 114,3 mm | 25,4 mm | R69210 | |
| 12 mm | 0 / +0,06 | 50 mm | 114,3 mm | 25,4 mm | R69212 | |