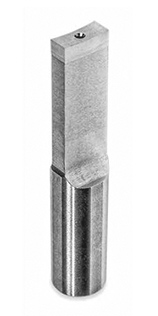 CNC Broaching Tool
for broaching Keyways
and Squared Profiles
This broaching tool allows the execution of broaching works in the same setup with
other machining operations.
Benefits
Kosteneinsparung durch Wegfall zusätzlicher Rüstzeiten
Keine Räumpresse/Räummaschine und keine Räumnadeln notwendig
Für Sack- und Durchgangsbohrungen
Mit zwei Schneidkanten für doppelten Standweg
Mehrfach nachschleifbar für geringere Werkzeugkosten
Anwendbar für Keilnuten DIN 6885, Vierkant- und Rechteckdurchbrüche
Application
Der runde Werkzeugschaft hat angeschliffene Flächen zum Ausrichten und Spannen im Werkzeug­halter. Mit einer Schnitttiefe von 0,07 – 0,12 mm (je nach Werkstoff) und einer Schnitt­geschwindigkeit von 250 – 750 mm werden Schnitte bis zur gewünschten Räum­tiefe gefahren. Hinweis: Auf ausreichend Schneidöl achten!
Technical Details and Dimensions
| Breite | Toleranz | Räumlänge | Wkz.-Länge | Schaft Ø | Art.-Nr |
| --- | --- | --- | --- | --- | --- |
| 4 mm | 0 /+ 0,04 | 38 mm | 95,25 mm | 15,88 mm | 69004 |
| 5 mm | 0 / +0,04 | 38 mm | 95,25 mm | 15,88 mm | 69005 |
| 6 mm | 0 / +0,05 | 50 mm | 114,3 mm | 22,23 mm | 69106 |
| 8 mm | 0 / +0,05 | 50 mm | 114,3 mm | 22,23 mm | 69108 |
| 10 mm | 0 / +0,06 | 50 mm | 114,3 mm | 25,4 mm | 69210 |
| 12 mm | 0 / +0,06 | 50 mm | 114,3 mm | 25,4 mm | 69212 |