PIRANHA
Centering Vises

High Precision
Extreme Power
Extremely strong with just 3 mm Clamping Depth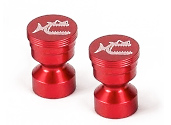 PIRANHA CLAMP Centering Vises are a highly sophisticated and mature clamping system for 5-axis and other machining centers, characterized particularly by its extreme clamping force (the spindle can withstand pressures well above 1300 Nm²) and, as you would expect from a Swiss manufacturer, the class leading precision. Just 3 mm clamping depth, so raw material waste is kept to a minimum, and extremely low overall height are further decisive performance advantages.
The main body is hardened and grinded on all sides +/-0.02 mm. The spindle is thermally treated. The gliding pillars are hardened, grinded and coated. The open construction ensures easy chip evacuation. The patented quick-change system (Gepard Range) leaves nothing to be desired in terms of changeover times: within a few seconds, a wide range of different clamping jaws can be changed. And the very low constructed PIRANHA CLAMP Zero-Point Clamping Plates provide the optimum interface to the machine for each centering vise and allow a repetition accuracy of 0.01 mm.
IBT Thiermann is the exclusive distributor for the Swiss manufacturer PIRANHA CLAMP in Germany.
PIRANHA Centering Vises
Benefits at a Glance
High precision and unbeatable clamping force
Minimum material loss due to only
3 mm clamping depth (Snapper)
Extremely low construction height
Patented quick-change system for
minimum changeover times (Gepard)
No pre-clamping
Maximum utilization of the machine table due to
slim construction (multiple clamping)
High repetition accuracy of 0.01 mm
No tilting of the jaws even at
high clamping pressures
Heat-treated and coated spindel and gliding bars
Open construction for easy chip removal
100% Swiss-Made
Customized Manufacturing: On request from customers we are also able to produce individual versions from our centering vices, clamping jaws, raster and zero-point clamping plates.