SNAPPER Centering Vises are especially designed
for raw part machining

of steel and non-ferrous metals, as well as  plastics, and can ensure the very highest quality and reliability on 5-axis and other machining centers.

Clamping pressure up to 200 Nm2 on just 3 mm clamping depth with 2 rows of teeth (pull-down spring return and positioning).

The base body is hardened and grinded on all sides +/-0.02 mm, the clam­ping jaws are hardened and grinded. The spindle is thermally treated, the guide pillars hardened and coated.

No prior shaping necessary!
PIRANHA SNAPPER - Centering Vises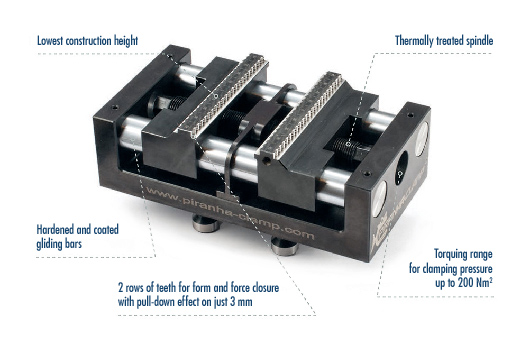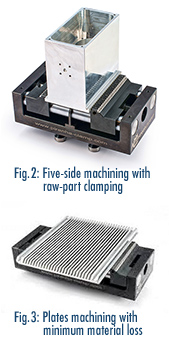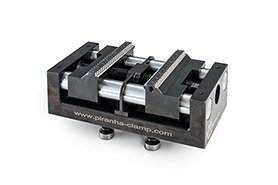 SNAPPER 170
Art. No.:  PC540362
L x B x H :   170 x 90 x 55 mm
Gewicht :     4,5 kg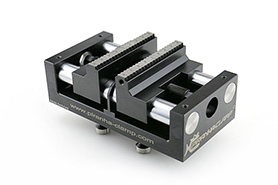 SNAPPER 170
with raised clamping jaws (+10 mm)
Art. No.:  PC540446
L x B x H :   170 x 90 x 65 mm
Gewicht :     4,6 kg
SNAPPER 300
Art. No.:  PC540401
L x B x H :   300 x 120 x 66 mm
Gewicht :    11,5 kg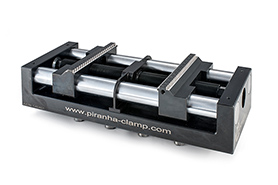 SNAPPER 300
with raised clamping jaws (+10 mm
Art. No.:  PC540447
L x B x H :   300 x 120 x 76 mm
Gewicht :    11,6 kg