Ceramic Blades for Keramicut II und V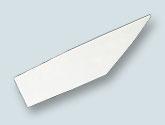 GT-CR2200
Convexed blade ideal for surface cleaning and parting line deflashing,
suitable for GRAT-TEC deburrer Keramicut II.
Hardness: 1250 HV.
Part No. GT-CR2200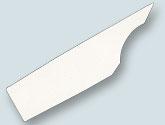 GT-CR2500
Concaved blade ideal for deburring curved edges and small ridges,
suitable for deburrer GRAT-TEC Keramicut II.
The special blade form provides a very good behaviour.
Hardness 1250HV.
Part No. GT-CR2500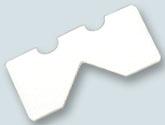 GT-CR5100
Removes burrs from both sides of a workpiece simultaneously,
suitable for Double Deburrer GRAT-TEC Keramicut V.
For plates up to 10 mm. Hardness 1250HV.
Part No. GT-CR5100