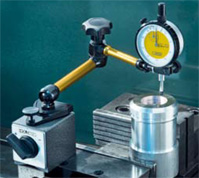 HOLDTEC Articulated Stands
WITH FINE ADJUSTMENT on the BASE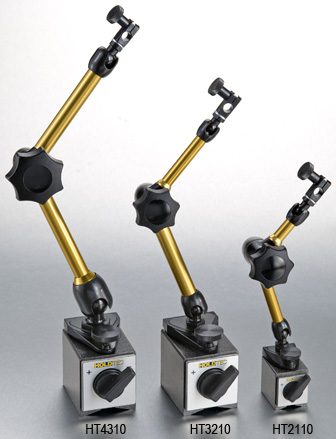 HOLDTEC Modular 5-Axis Stand
for Measurement and
Mechanical Engineering

Especially suited for hardly accessible areas.
The Fine Adjustment on the base enables an easy and precise adjustment. Zero-setting becomes faster than with any other mechanism.
WITH FINE ADJUSTMENT on the BASE
Modular 5-Axis Stand for Measurement and
Mechanical Engineering
Choose the arms that fit your needs!
With 4 basic sizes you can assemble 10 different holders
Universal gauge bracket for shanks
Ø 8 mm, Ø 3/8" and dovetail.
Central locking mechanism with HOLDTEC designed
spring loaded bearing.
Powerful on/off magnetic base.
Gold finished columns and arms made of
anodized highstrength aluminium alloy.
Handle
Lenghts
Magnetic Base
 
Art. No.
Weight
Column
Arm
Overall
Holding Strength
Dimensions
[kg]
L1
L2
L1 + L2 + L3
[N]
W x L x H
Alle Maße in mm außer es ist eine andere Einheit angegeben.
HT2110
0,43
80
50
152
320
30 x 40 x 35
HT3210
1,28
110
80
212
800
50 x 60 x 55
HT4310
1,46
140
110
272
800
50 x 60 x 55