Instructions for Use
HASSAY SAVAGE Precision Broaches:
Easy Broaching without expensive special machines
An expensive special machine isn't needed for Hassay Savage Push Type Broaching. A mecanical arbor press or a hydraulic press, like it is available in almost all workshops, is quite sufficient and most suitable.
For detailed informations about manual presses please contact our sales and service staff.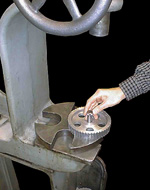 Keyway broaches and bushings are clearly marked as to size
engraved in the tool with "I" to "VI" (and mentioned in the charts
with "Type I" to "Type VI").
Any type I broach can be used with any type I bushing,
and type II broach with type II bushing etc.
Bushes with diameters 6 - 150 mm are available from stock,
other sizes and custom bushes are available on short delivery.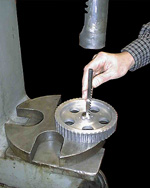 Application:
1. Select a bushing according to the drill hole diameter of the
    workpiece.
2. Select the broach with the corresponding keyway width
    (available are broaches with tolerances JS9 and P9).
3. Push the broach into the slot of the bushing.
    It must slide freely until the first tooth locates in the workpiece.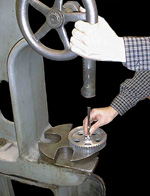 4. Place the unit of "workpiece-bushing-broach"
    under the ram.
5. Make sure that the tool is centered below the ram
    so that the ram thrust forces will drive the broach
    directly through the bushing to avoid drift.
6. Drive the broach through the working piece.
IMPORTANT: Lubrication can make or break a job!
Supply the broach during the entire broaching process with sufficient cutting oil resp. lubricant of good quality.