LOC-LINE FLEXI 75 Vacuum Hose System

FLEXI 75 is a flexible segment hose made from an acetal copolymer, designed  to be added to an existing central vacuum system to extract smoke, dust, fumes and particles at the source.
FLEXI 75 - Simple to mount, modifiable at any time
Create a custom vacuum hose by changing the length or the nozzle. Pop together the appropriate number of elements and choose the nozzle best suited for your application. Just as easy, it can be modified at a later date if required.
FLEXI 75 - Flexible and position-keeping
The exact exhaust position is hand adjustable and will be kept vibration-proof. It is self-supporting up to 100 cm so it stays where you put it. 360° loops can be formed with a radius of 150 mm.
FLEXI 75 - Durable and resistant
FLEXI 75  is made of premium grade acetal copolymer that will not fray.  It is resistant to crushing,  will not get brittle, and is resistant to most chemicals.
Vacuum Hose Applications
Soldering
Wet Grinding
Eroding
Oil Mist

Drying Rooms

Laboratory Spaces
Woodworking
Machining applications; especially mist, graphite
and particles
Solvent odors

Chemical odors and fumes (except acids)
Temperature Specifications

Melting Point: 329°C
Maximum Operating Temperature: < 170°C
Anti-Static Hose
Electrical Properties
Surface

Resistivity:
1.000 E3 Ω
Volume Resistivity:
< 6.000 E2 Ωcm
Vacuum Hose Dimensions

Outer Size: 75 mm
Inner Size: 63 mm
Connectors are available with 83 mm Inner- and 75 mm Outer Size.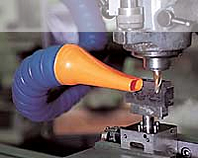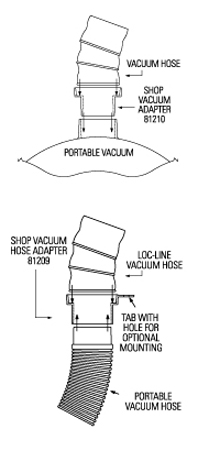 Fig. Connection of FLEXI 75 to an exis­ting vacuum system or an portable vacuum hose