MITEE-BITE Pitbull Machinable Clamps
for Machine Tables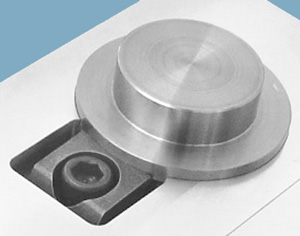 The popular PITBULL® Fixture Clamp is also available in a machinable version with additional material* on the clamping face to allow for machining a radius.

This PITBULL® Clamp is made of A2 tool steel and heat treated to about 43RC for long life, yet still machinable.It is available in two sizes with 26000 and 50000 N of holding force. A dowel pin is included in each package to locate clamp while machining radius.

Like all Pitbull® Clamps it has a strong positive down force and a very low gripping profile, reducing material cost and number of operations.
* The machining allowance is 1.5 mm for Part No. 56077 and 4.5 mm for Part No. 56088.
Art.No.
A
B
C
D
E
Clamp
Thread
Hold
Torque
Clamp
D1
Per
Width
Force
Travel
Pack
[mm]
[mm]
[mm]
[mm]
[mm]
[mm]
[kN]
[Nm]
[mm]
[mm]
D1: Diameter of Dowel Pin for machining the clamp ( included in scope of supply).
56077
10,16
11,43
25,4
6,35
18
25,4
M10
26
40,6
1,27
3,18
4
56088
15,24
16,26
38,1
9,52
19,6
38,1
M12
50
145
1,9
6,35
2