Modular Pitbull® Clamps for Machine Tables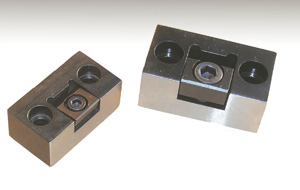 The compact Modular Pitbull® Clamp from MITEE-BITE generates high holding forces up to 26 kN. Its back surface can be used to locate the next workpiece. The back of the clamp is ground square to the bottom for precise location of parts. The height of the clamp can be adjusted by the depth of the milled slot.

MITEE-BITE Modular Pitbull® Clamps are available in two sizes with holding forces of 16,000 N and 26,000 N.
| Art. No. | A | B | C | E | F | Clamp- | Hold | Torque | Screw | Clamp | Thread |
| --- | --- | --- | --- | --- | --- | --- | --- | --- | --- | --- | --- |
| | | | | | | Travel | Force | | | Width | |
| | [mm] | [mm] | [mm] | [mm] | [mm] | H [mm] | [kN] | [Nm] | | [mm] | |
| 56220 | 57,1 | 34,15 | 25,1 | 15,7 | 38,1 | 0,61 | 16 | 22,5 | M8 | 19,1 | M6 |
| 56230 | 68,6 | 37,59 | 31,5 | 18,8 | 47 | 1,27 | 26 | 40,6 | M10 | 25,4 | M10 |