The TOOLEX AccuSnap Vice Master Jaw and Parallel System allows you to change jaws in a matter of seconds and thus, help to reduce set-up time and increase productivity.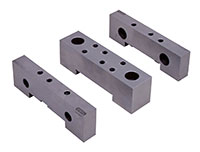 AccuSnap Master Jaws
Art. No. TAMJ6035
AccuSnap Master Jaws are mounted to the SnapLock Carrier Jaws. They include the patented AccuSnap quick-change mechanism, which makes it easy to snap on all AccuSnap jaw components.

Content:  3 pieces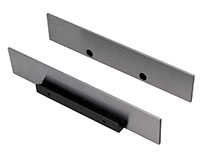 AccuSnap Parallel Sets (2 Stück)
Parallels easily snap into the AccuSnap Master Jaws and are ejected via the patented kick-out pawl.
                                              Height [mm]                                                          Height [mm]
Art. No. TAIP6001 19,05
Art. No. TAIP6002 25,40
Art. No. TAIP6003 28,58
Art. No. TAIP6004 31,75
Art. No. TAIP6005 34,93
Art. No. TAIP6006 38,10
Art. No. TAIP6007 41,28
Art. No. TAIP6008 44,45
Art. No. TAIP6009 46,02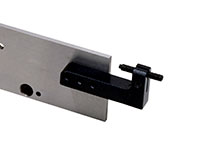 AccuSnap Workstops for Parallel Sets

can be mounted easily, quickly and in a variety of positions to the Parallel Sets, and provide an extremely accurate workpiece location and repeatability.
      Right                               A [mm]     H [mm]              Left                                A [mm]   H [mm]
Art. No. TAWS6000      68,07    16,69
Art. No. TAWS6001      93,47     16,69
Art. No. TAWS6010      68,07     29,39
Art. No. TAWS6011      93,47     29,39
Art. No. TAWS6020 68,07 16,69
Art. No. TAWS6021 93,47 16,69
Art. No. TAWS6030 68,07 29,3
Art. No. TAWS6031 93,47 29,39
(A = Distance to the center / H = Height / Depth = 12,52 mm)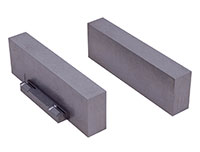 AccuSnap Machinable Jaws (2 Pieces)
are used in conjunction with AccuSnap Master Jaws and can be changed within
a matter of seconds due to the AccuSnap Quick-Change mechanism. Available in aluminum and hardened steel, individually machinable.
                                                     Material
Art. No. TASJ6000     Alumium
Art. No. TASJ6001     Alumium
Art. No. TASJ6020     Steel
Art. No. TASJ6021     Steel