MITEE-BITE VAC-MAGIC
Zero Point Clamping System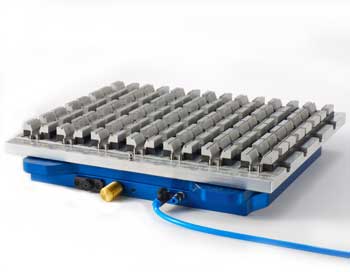 VAC-Magic
As a Vacuum Clamping System and Pallet Changer in one, MITEE-BITE VAC-Magic will boost your clamping possibilities and reduce set-up times simultaneously. Its small air con­sumption and free maintenance keep operational costs low.
Additionally, as a Vacuum Clamping System VAC-MAGIC offers you the ability to clamp flat and smooth work­pieces which otherwise could not  be clamped in a bench vise.
A further Plus: No vacuum pump is needed! VAC-MAGIC operates with standard shop air!
VAC-Magic Systems and Pallets
| Art. No. | Description |
| --- | --- |
| 45101 | Complete system, including base unit, 2 blank pallets and vacuum palett with 4 clamps |
| 45130 | Standard palett 20 mm |
| 45150 | Vacuum palett |
| 45175 | Base unit with safety switch, all necessary hoses and 4 mounting clamps |
VAC-Magic Spare-Parts
| Art. No. | Description |
| --- | --- |
| 22815 | 1 Mounting clamp |
| 45110 | 1,5 m rubber sealing tape |
| 45145 | 1 Brass filter |
| 45165 | 1 Set O-Rings |
| 45185 | 2 Center pins |