ID Xpansion Clamps for Through Holes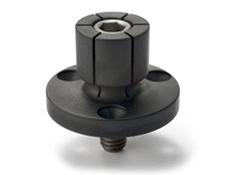 The machinable ID Xpansion Clamps are produced in 11 sizes and can hold internal diameters from under 4.1 mm to over 103 mm.The flange diameter of the clamp is held to a close tolerance for precision locating in a machined pocket on work cubes and fixture plates.
Low Profile: 5-Side-Machining posible,

Compact Design: Multiple Clamping posible,

Clamp Body made of mild steel, so that the customer can machine the clamp to fit the bore of the workpiece.
Easy-to-Use,
Capable of being automated.
| Art. | A | B | C | D | E | F | G | H | I | J | Holding |
| --- | --- | --- | --- | --- | --- | --- | --- | --- | --- | --- | --- |
| No. | | | | | | | | Thread/TK | | | Force |
| | [mm] | [mm] | [mm] | [mm] | [mm] | [mm] | [mm] | Ø [mm] | [mm] | [mm] | [kN] |
| 38000 | 10,7 | 7,6 | 6,1 | 3 | 20h9 | 7,4 | 4,1 | M2/13,7 | M2 | 4,1 | 1,1 |
| 38050 | 21,8 | 16 | 15 | 5,9 | 29,72h9 | 12,4 | 7,2 | M3/21 | M4 | 8 | 4,2 |
| 38100 | 24,9 | 19 | 15 | 5,9 | 31,5h9 | 14,2 | 12,2 | M3/23,1 | M6 | 12 | 8,5 |
| 38150 | 24,9 | 19 | 15 | 5,9 | 37,5h9 | 20 | 13,5 | M3/29 | M8 | 14 | 11,1 |
| 38200 | 28,6 | 22,2 | 17,5 | 6,4 | 50h8 | 27 | 18 | M4/39,4 | M10 | 17 | 20 |
| 38250 | 31,8 | 25,4 | 20,6 | 6,4 | 56h8 | 35,3 | 25,4 | M4/45,5 | M12 | 21 | 26,3 |
| 38300 | 39,6 | 31,8 | 27 | 7,9 | 69,5h8 | 42 | 30 | M5/55,9 | M16 | 22 | 44,5 |
| 38350 | 39,6 | 31,8 | 27 | 7,9 | 75,5h8 | 51 | 30 | M5/63,9 | M16 | 22 | 44,5 |
| 38400 | 45,5 | 37,6 | 32,3 | 7,9 | 107,5h8 | 77 | 30 | M6/92,5 | M16 | 20 | 44,5 |
| 38450 | 46 | 38 | 32 | 8 | 132,9h9 | 103 | 30 | M6/118 | M16 | 20 | 44,5 |
| 38500 | 45,5 | 37,6 | 32,3 | 7,9 | 132,9h9 | 175 | 30 | M6/118 | M16 | 20 | 44,5 |

Spare-Screws
Art. No.
for ID XPansion Clamp
Per Pack
Heat-treated and coated screw for longer life
38001
38000
1
38002
38050
1
38010
38100
1
38020
38150
1
38032
38200
1
38042
38250
1
38052
38300 / 38350
1
38072
38400 / 38500
1