CAM Action Clamps for Machine Tables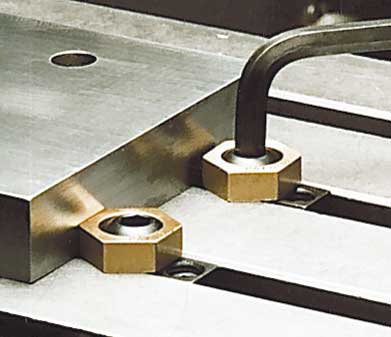 Combined with a slot nut you make out of every MITEE-BITE cam action clamp with a hexagonal brass washer or knife edge washer a low-cost clamp for Machine Tables or Mounting Plates with t-slots.
The slot nut simply will be locked with a screw into the t-slot.
Key benefits:
Locks in machine T-slot for low profile clamping.
Makes fast set-ups possible right on the machine table.
Brass hex follows contour of unusual shaped parts.
Strong holding force up to 27kN (2,7t).
Good value for money!
| for | Hexagon | Thread | Thread | Washer | Washer | Clamping | Holding | Per Pack | Art. No. |
| --- | --- | --- | --- | --- | --- | --- | --- | --- | --- |
| T-Slot | Socket | | Length | SW | Height | Travel | Force | | |
| [mm] | [mm] | [mm] | [mm] | [mm] | [mm] | [mm] | [mm] | | |
| 8 | 3 | M6 | 12 | 16 | 4,8 | 1,0 | 3,4 | 2 | X50422 |
| 10 | 4 | M6 | 12 | 16 | 4,8 | 1,0 | 3,4 | 2 | X50424 |
| 10 | 5 | M8 | 16 | 21 | 4,8 | 1,0 | 3,6 | 2 | X50426 |
| 14 | 7 | M10 | 20 | 21 | 6,4 | 1,6 | 9,0 | 2 | X50428 |
| 16 | 8 | M12 | 25 | 25 | 9,5 | 2,0 | 18 | 2 | X50430 |
| 18 | 8 | M12 | 25 | 25 | 9,5 | 2,0 | 18 | 2 | X50432 |
| 20 | 12 | M16 | 30 | 30 | 12,7 | 2,5 | 27 | 2 | X50434 |
| 22 | 12 | M16 | 30 | 30 | 12,7 | 2,5 | 27 | 2 | X50436 |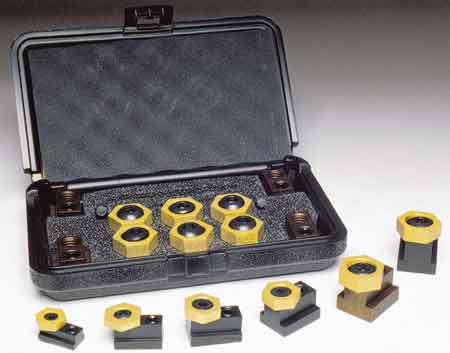 Fixture Clamps for Machine Tables
13-part kit for T-slots 8 - 22 mm, with storage-box, containing:
6 Fixture Clamps with hexagonal brass washer
4 T-Nuts
2 Hex Keys

| for T-Slot [mm] | 8 | 10 | 12 | 14 | 16 | 18 | 20 | 22 |
| --- | --- | --- | --- | --- | --- | --- | --- | --- |
| Art. No. | X50642 | X50644 | X50646 | X50648 | X50650 | X50652 | X50654 | X50656 |
Spare-Screws
| Thread | Per Pack | Art. No. |
| --- | --- | --- |
| M6 | 10 | X50365 |
| M8 | 8 | X50367 |
| M10 | 4 | X50369 |
| M12 | 4 | X50371 |
| M16 | 4 | X50373 |
Spare-Washer
| Size | Per Pack | Art. No. |
| --- | --- | --- |
| M6 | 10 | X10582 |
| M8 | 8 | X10584 |
| M10 | 4 | X10586 |
| M12 | 4 | X10590 |
| M16 | 4 | X10592 |
Spare-T-Nuts
| f. T-Slot | Per Pack | Art. No. |
| --- | --- | --- |
| [mm] | | |
| 8 | 2 | X50708 |
| 10 | 2 | X50710 |
| 12 | 2 | X50712 |
| 14 | 2 | X50714 |
| 16 | 2 | X50716 |
| 18 | 2 | X50718 |
| 20 | 2 | X50720 |
| 22 | 2 | X50722 |