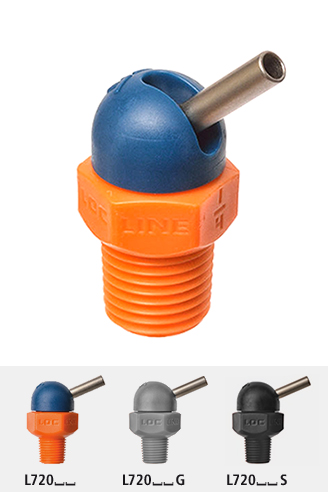 HP Turret Nozzle
CD Type
LOC-LINE High Pressure Nozzle particularly suitable for tight installation situations and with only 32 mm height (which includes 12 mm thread length) one of the most compact HP nozzles in the market!
Special Features
Maximum Pressure:      70 bar High Pressure
Swivel Range:             S

max

= 72°
Turning Range:                 can be rotated 360°
Particularly compact.
After being screwed in and adjusted the CD Nozzle
stays absolutely stable in position.
Versions
2 Thread Sizes:           1/8" and 1/4" NPT/BSPT
4 Nozzle Diameters:   1,6  /  2,2  /  3,0  /  4,1 mm
4 Nozzle Lengths:            0  /  6,4  /  12,7  /  31,8 mm
3 Colours: orange-blue / grey / black
1/8" NPT/BSPT LOC-LINE HPT Nozzle (CD Type)
Nozzle Length
0
6,4
12,7
31,8
 
Nozzle Diameter
Art. No.
Art. No.
Art. No.
Art. No.
Swivel Range S
Nozzle length and diameter in mm. Nozzle color: orange-blue
1,6
72010
72011
72012
72013
72°
2,2
72014
72015
72016
72017
72°
3,0
72018
72019
72020
72021
72°
4,1
72022
72023
72024
72025
70°
1/4" NPT/BSPT LOC-LINE HPT Nozzle (CD Type)
Nozzle Length
0
6,4
12,7
31,8
 
Nozzle Diameter
Art. No.
Art. No.
Art. No.
Art. No.
Swivel Range S
Nozzle length and diameter in mm. Nozzle color: orange-blue
1,6
72060
72061
72062
72063
72°
2,2
72064
72065
72066
72067
72°
3
72068
72069
72070
72071
72°
4,1
72072
72073
72074
72075
70°