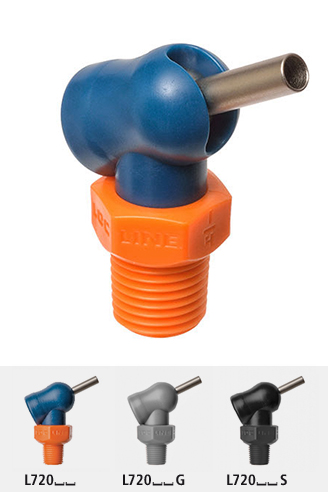 HP Turret Nozzle
XW Type
LOC-LINE High Pressure Nozzle with extra wide swivel range up to 110°!

Technical Details
Maximum Pressure:      70 bar High Pressure
Swivel Range:             S

max

= 110°
Turning Range:                 can be rotated 360°
Special Features
Extra wide swivel range.
After being screwed in and adjusted LOC-LINE HP Turret Nozzles stay absolutely stable in position.
Versions
2 Thread Sizes:           1/8" and 1/4" NPT/BSPT
4 Nozzle Diameters:   1,6  /  2,2  /  3,0  /  4,1 mm
4 Nozzle Lengths:            0  /  6,4  /  12,7  /  31,8 mm
1/8" NPT/BSPT LOC-LINE HPT Nozzle (XW Type)
Nozzle Length
0
6,4
12,7
31,8
 
Nozzle Diameter
Art. No.
Art. No.
Art. No.
Art. No.
Swivel Range S
Nozzle length and diameter in mm
1,6
72040
72041
72042
72043
110°
2,2
72044
72045
72046
72047
110°
3
72048
72049
72050
72051
110°
4,1
72052
72053
72054
72055
102°
1/4" NPT/BSPT LOC-LINE HPT Nozzle (XW Type)
Nozzle Length
0
6,4
12,7
31,8
 
Nozzle Diameter
Art. No.
Art. No.
Art. No.
Art. No.
Swivel Range S
Nozzle length and diameter in mm
1,6
72080
72081
72082
72083
110°
2,2
72084
72085
72086
72087
110°
3
72088
72089
72090
72091
110°
4,1
72092
72093
72094
72095
102°