Eccentric Fixture Clamps with Machinable Steel Washer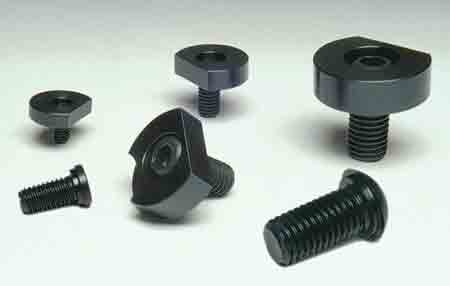 Combined with a washer made of mild steel the Fixture Clamp becomes the perfect clamp for holding round, unstable or unusual shaped parts.
Milling the contour of the working piece into the washer results in a form-fit clamping that needs less holding force and is distributing it on more clamping surface.
By milling a step into the washer the part can be hold elevated for through-drilling. 
A special screw is provided with each package to hold the washer in the proper place during machining.
Allowance
Thread
Washer
Washer-
Thread
Clamping
Wrench
Holding
Per
Art. No.
Ø
Ø
Height
Length
Travel
Size
Force
Pack
A1 [mm]
D [mm]
D1 [mm]
H [mm]
L [mm]
C [mm]
SW [mm]
[kN]
 
 
A1 is the amount of machinable stock.
6,4
M6
24,9
6,4
11,9
1,0
4
3,3
4
X50506
7,0
M10
31,2
8,9
18,0
1,5
7
8,9
4
X50510
7,6
M12
37,6
11,4
22,9
2,0
8
17,8
4
X50512
8,9
M16
43,9
14,0
28,6
2,5
12
26,7
4
X50516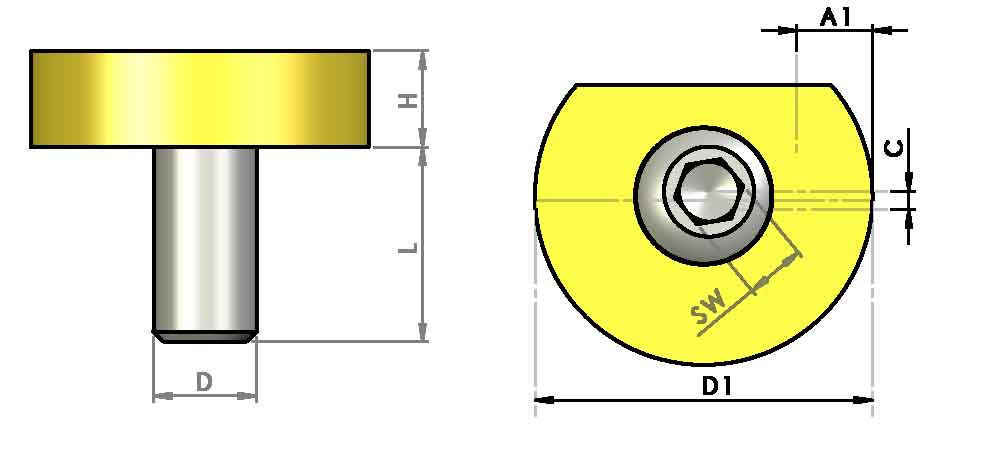 Spare-Screws
| Thread | Per Pack | Art. No. |
| --- | --- | --- |
| M4 | 10 | X50363 |
| M6 | 10 | X50365 |
| M8 | 8 | X50367 |
| M8VA* | 8 | X50366 |
| M10 | 4 | X50369 |
| M12 | 4 | X50371 |
| M16 | 4 | X50373 |
Spare-Form-Fit-Washers
| Size | Per Pack | Art. No. |
| --- | --- | --- |
| M6 | 4 | X10604 |
| M10 | 4 | X10606 |
| M12 | 4 | X10612 |
| M16 | 4 | X10616 |