Fixture Clamps with Hexagonal Brass Washers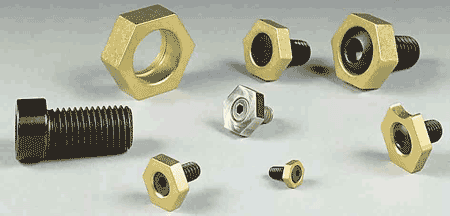 The in circumferential direction free movable Hexagonal Brass Washer from MITEE-BITE ensures gently but strong clamping and optimal adjustment to the angular position of the machined part.
All MITEE-BITE Fixture Clamps are characterized by their low profile, which is solving a multitude of problems in fixture construction.
In wrench size 20 mm available in V2A too.

| Holding | Hexagon | Thread | Thread | Hexagonal | Washer | Clamping | Per | Art. No. |
| --- | --- | --- | --- | --- | --- | --- | --- | --- |
| Force | Socket | Ø | Length | Washer | Height | Travel | Pack |   |
| [kN] | [mm] | D [mm] | L [mm] | SW [mm] | H [mm] | C [mm] | | |
| 0.9 | 3 | M4 x 0,7 | 10 | 8 | 2,8 | 0,8 | 10 | 50204 |
| 3,4 | 4 | M6 x 1,0 | 12 | 16 | 4,8 | 1,3 | 10 | 50206 |
| 3,6 | 5 | M8 x 1,25 | 12 | 20 | 4,8 | 1,0 | 12 | 50208 |
| 9,0 | 7 | M10 x 1,5 | 16 | 20 | 6,4 | 1,6 | 10 | 50210 |
| 18,0 | 8 | M12 x 1,75 | 20 | 25 | 9,5 | 2,0 | 8 | 50212 |
| 27,0 | 12 | M16 x 2,0 | 30 | 30 | 12,7 | 2,5 | 4 | 50216 |
| |   |   |   |   |   |   |   |   |
| V2A Version |   |   |   |   |   |   |   |   |
| 3,6 | 5 | M8 x 1,25 | 16 | 20 | 6,4 | 1,0 | 4 | 50207 |

A = Workpiece-to-Centerline
Distance
M4 = 3,8 mm
M6 = 7,8 mm
M8 = 10,2 mm
M10 = 10,2 mm
M12 = 12,7 mm
M16 = 15,0 mm
Spare-Screws
Thread
Per Pack
Art. No.
* V2A Type
M4
10
X50363
M6
10
X50365
M8
8
X50367
M8VA*
8
X50366
M10
4
X50369
M12
4
X50371
M16
4
X50373
Spare-Hexagonal Washers
Size
Per Pack
Art.No.
* V2A Type
M4
10
10580
M6
10
10582
M8
8
10584
M8VA*
8
10585
M10
4
10586
M12
4
10590
M16
4
10592