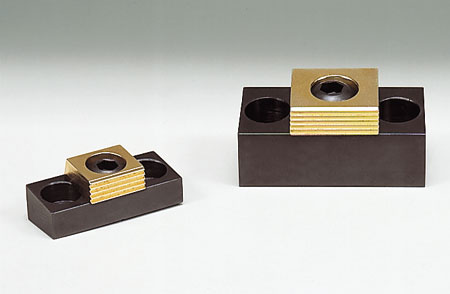 This MITEE-BITE cam action fixture clamp provides positive down force, holding the workpiece safely to the support. When clamping multiple workpieces the rear side of the body can be used as a stop.
Space-saving clamping of multiple workpieces.
Washer has a smooth surface for machined workpieces and a serrated clamping surface for rougher work.
Mounting preferably in slots with B +0.05 mm.
The contact height of the washer can be varied by milling the slot deeper in the fixture plate.
Body and washer case-hardened.
| L | L1 | L2 | B | B1 | D | H | H1 | H3 | S | Art. No. |
| --- | --- | --- | --- | --- | --- | --- | --- | --- | --- | --- |
| [mm] | [mm] | [mm] | [mm] | [mm] | [mm] | [mm] | [mm] | [mm] | [mm] | |
| 43,2 | 9,5 | 25,4 | 19,0 | 19,0 | M8 | 12,7 | 15,75 | 6,4 | 2,3 | 54110 |
| 54 | 13,8 | 33,5 | 25,4 | 25,4 | M10 | 11,7 | 15,75 | 9,7 | 2,8 | 54112 |
| 75 | 17,0 | 50,8 | 38,1 | 38,1 | M12 | 25,2 | 31,75 | 12,7 | 3,3 | 54116 |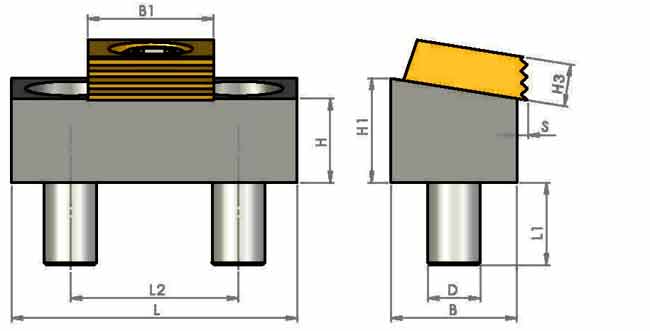 Spare-Screws, short
| Size | Per Pack | Art. No. |
| --- | --- | --- |
| M10 x 13 | 1 | 50368 |
| M12 x 16 | 1 | 50372 |
| M16 x 24 | 1 | 50374 |
Spare-Washer
| Size | L x B | Per Pack | Art. No. |
| --- | --- | --- | --- |
| M10 | 19 x 19 | 1 | 21006 |
| M12 | 25,4 x 25,4 | 1 | 21016 |
| M16 | 38 x 38 | 1 | 21026 |